RAGGIO CUSTOM CALLS SINGLE REED DUCK CALL FIRST BLUE CALL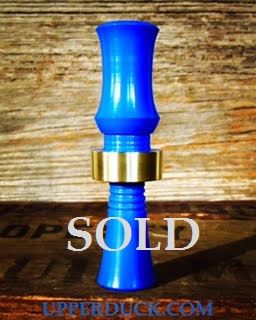 RAGGIO CUSTOM CALLS SINGLE REED DUCK CALL FIRST BLUE CALL
Brand new, the very first BLUE CALL from Raggio Custom Calls*.  100% hand-crafted, fine tuned and signed (engraved on back of tone board).  This material is ultrarare, and uncommon to the average duck call maker.  BLUE CALL material is a high grade, FDA approved thermoplastic.  This highly collectible and highly hunt-able duck call from callsmith Mr. Josh Raggio has just been produced in late June 2016.  Available for immediate shipment to purchasing client.  UpperDuck is an Authorized Dealer of Raggio Custom Calls.  FREE SHIPPING, FREE RAGGIO HAT, FREE Raggio and UpperDuck Stickers with purchase of this duck call.      

Super-raspy duck sound with excellent range from top to bottom



Good amount of "hold" in the call, with the unique sound that Raggio's are known for

This is a meat style duck call

Sound volume:  Soft, Low, Medium, Medium loud
Hand turned, hand sanded, hand finished duck call
This is a jigged call with jig marks to proof, and dremel signature engraved by Josh Raggio

Raggio Calls have numerous 2014-2016 TOP 3 Finishes in duck calling competitions

Every Call by Josh Raggio is hand tuned and thoroughly tested

MADE IN RAYMOND, MISSISSIPPI U.S.A.
Josh Raggio is a former Mississippi Duck Calling Champion

Josh competed in the World Championship in Stuttgart, Arkansas
*No coupons allowed on the purchase of this call, thank you.
Reviews