MARK BUEHRLE GAME BAT, UPPERDUCK CONCEPT; duck call hand-turned by JOSH RAGGIO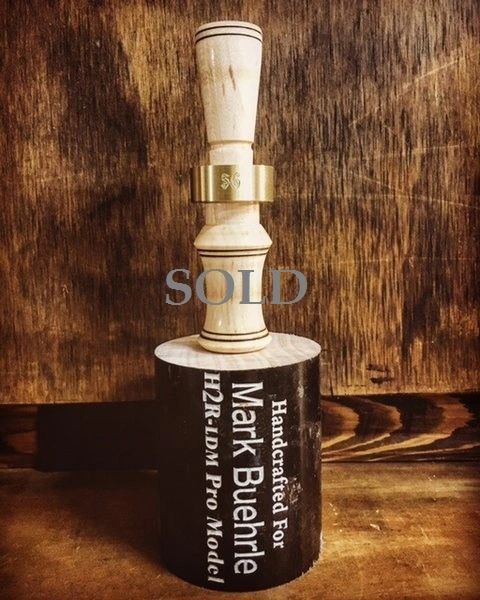 MARK BUEHRLE GAME BAT, UPPERDUCK CONCEPT; duck call hand-turned by JOSH RAGGIO
This new duck call is made from a Mark Buehrle MLB game bat. Mark played Major League Baseball for 16 seasons (12 w Chicago White Sox, 3 Toronto Blue Jays, 1 Miami Marlins) as a left-handed pitcher and accomplished:
1 "MLB PERFECT GAME"

1 "MLB NO-HITTER"

1 "MBL WORLD SERIES CHAMPION"

4 "MLB GOLD GLOVES"

5 "MLB ALL-STAR APPEARANCES"


HIT HOME RUN
New, handmade, turned on a lathe, MARUCCI baseball game-used bat!
The Raggio Custom Call is an incredible hunting call, a highly collectible and a highly sought after duck call from Mr. Josh Raggio. LESS THAN 200 CALLS WILL BE MADE IN 2017 BY JOSH RAGGIO. This call is a 2017 produced call, cut and hand tuned by Josh Raggio. Available for immediate shipment to purchasing client.

Very Raspy with unique signature sounds and trademark tones of a Josh Raggio duck call.
Josh Raggio is a past Mississippi Duck Calling Champion
Good amount of "hold" in the calls

This is meat calling/live duck style calling duck call

Sound volume: Soft, Low, Medium, Medium loud

Hand turned, hand sanded, hand finished duck calls
These are jigged calls with jig marks to proof

Raggio Calls have numerous 2014-2016 TOP 3 Finishes in competitions

Josh competed in the World Championship in Stuttgart, Arkansas
Every Call by Josh Raggio is hand tuned and thoroughly tested

MADE IN RAYMOND, MISSISSIPPI U.S.A.

All of the duck calls from UpperDuck are cleaned, sanitized and shipped to you FREE via USPS Priority Mail with tracking



Reviews