JJ Lares UPPERDUCK HEAVY/LOUD REEDS (4 Reeds)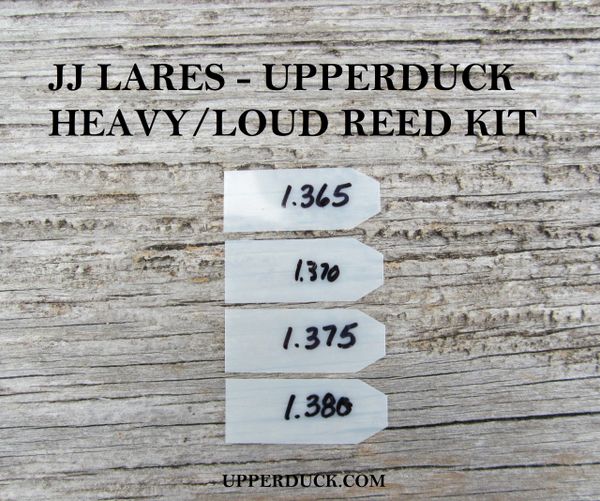 JJ Lares UPPERDUCK HEAVY/LOUD REEDS (4 Reeds)
UPPERDUCK is the Creator of the "
HEAVY / LOUD
REED KIT" for JJ Lares Championship Duck Calls. These 4 longest reeds ( 1.365", 1.370", 1.375", 1.380") are laser-cut by JJ Lares and commonly used by professionals in "Meat/Live Duck" style Calling Contests.  In addition, these 4 Reeds create the loudest volume call sounds in Lares duck calls, and can add that wicked "bark" to your call which is desired by so many diehard duck hunters and professional guides.
J.J. LARES HEAVY/LOUD REEDS can compliment your new JJ LARES Hybrid, T-1 and A5 Duck Call
(T-1 Call comes with 1.320" in the call; HYBRID Call and A5 Call come with 1.350" in the call).  Duck Call NOT included.

J.J. Lares HEAVY/LOUD 4 Reed Kit includes: 1.365", 1.370", 1.375", and 1.380" Reeds. 
("Dog-ear Cut" reed shapes are on the 1.330" - 1.380" sized reeds.)
For a more customized reed set or individual reeds, please see our product: J.J. LARES Individual Reeds
Your Reeds will be shipped U.S. Priority Mail 2-3 day delivery with tracking.
Reviews