**SOLD OUT** JJ LARES MAGNUM HEN "1 OF 1" MEX High Sierra Sappy Coco X Jade Acrylic Inlaid Green Pearl Band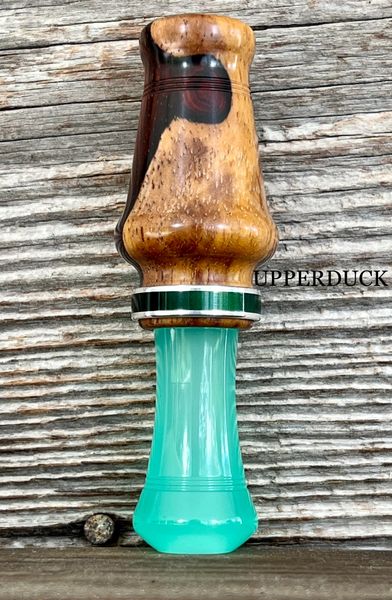 **SOLD OUT** JJ LARES MAGNUM HEN "1 OF 1" MEX High Sierra Sappy Coco X Jade Acrylic Inlaid Green Pearl Band
"1 of 1" Our New Series Created by UpperDuck

RARE

 SAPPY MEXICAN HIGH SIERRA COCOBOLO

JJ Lares Championship Calls Engraved on bottom of toneboard in black



From top to bottom, this call is the complete package. It possesses the deeper, dominant hen tone from Lares models of the past, but with the range and versatility of the ever popular Hybrid. The bottom end is exceptionally smooth, with a bit more back pressure for whiny tones and clucks. When you need to hit it hard, it has ex

treme volume and power. This call definitely lends itself toward ultra aggressive calling styles, suitable for longer reed lengths. The Magnum Hen is incredibly comfortable in hand, and effortless to blow for long hours in the field. If you're looking to add another phenomenal tool to your calling arsenal, the Magnum Hen is for you.
SUPERB Hi-End, Loud, Very good rasp in the middle and bottom

Sound volume: Low, Medium, High. Great transitions.

1.350 reed

Single Reed
+/- .001 of an inch manufacturing tolerances

Exclusive saliva ejector system will never load up or change tone because of weather or saliva build up
Stoppers and barrel mounted on O-ring
Never need tuning, trimming, or readjustment
No cork, never changes tones or sticks from wet or dry conditions
All reeds are die cut and quickly interchangeable without adjustment or cutting
HAND TUNED & TESTED BY LARES AND UPPERDUCK

MADE IN U.S.A.
All of the duck calls from UpperDuck are cleaned, sanitized and shipped to you FREE via USPS Priority Mail with tracking
Reviews