BearKraft #245 Red Black Dyed Maple Burl Macassar Ebony Band and Cocobolo Insert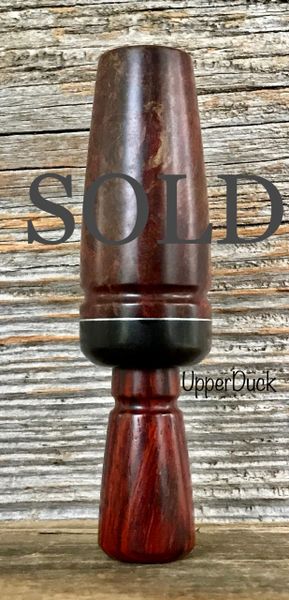 BearKraft #245 Red Black Dyed Maple Burl Macassar Ebony Band and Cocobolo Insert

This unique, single-mylar-reed, handmade duck call is hand-cut on a jig. The fit and finish of BearKraft calls are truly exceptional, and immediately noticeable when you pick up this call. 
J-Frame Arkansas style mallard duck call with superb rasp and full sound.

There is a good amount of "hold" in this call. 

This is a hunting call and a meat calling/live duck style calling duck call.

Sound volume:  Soft, Low, Medium, Medium loud

Hand turned, hand sanded, hand finished duck calls

This is a jigged call, with jig marks to proof

Every Call by Bear Lyle is hand tuned and thoroughly tested

HANDMADE IN MORRISTOWN, TENNESSEE U.S.A.

All of the calls from UpperDuck are shipped to you FREE via USPS Priority Mail with tracking.

Signed and Numbered via Engraved tone board.
Reviews