RNT CUSTOM Mondo 2BS Mallard Green Black Matte Band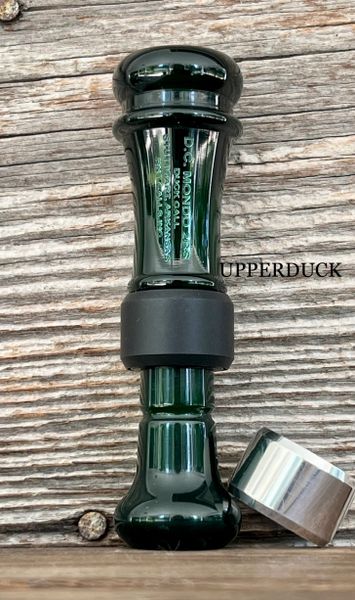 RNT CUSTOM Mondo 2BS Mallard Green Black Matte Band
AUTHENTIC RNT MONDO ALUMINUM BAND INCLUDED IN ALL RNT MONDO CALLS. 

NEW FOR 2023 The Mondo 2BS. The "S" stands for "Shorty". 
The Mondo 2B is a Cut-Down style call designed in the J. Stephens Call Shop. John has always liked the qualities of a "Cut-Down" style call but at first, struggled to operate this style of call. Most cut-downs took a lot of air to operate and didn't have enough built-in backpressure for his style of calling, so he set out to make a call that had more backpressure and hold. John has always preferred his hunting calls to have a deeper and raspier tone than most typical calls, providing the ability to get soft on the low end, still able to bark and push the call on the top when needed. This is how the J. Stephens Axe was born. " Where we hunt, which is mostly reservoirs at 2 Bayous, the ducks already know where they are going. So I like to have a call that can produce soft clucks, chatter, and ultra-realistic quacks. At the same time, I did not want to lose the ability to break high ducks on migration days with a loud, powerful bark. I lengthened the distance from the cork slot to the end of the stopper, creating more backpressure while lengthening its drill hole and backbore and increasing the diameter in the final bore. This gave me exactly the "Cut Down" style call that fit my style of calling and met my hunting needs"-John Stephens. The Mondo 2B, is RNT's version of the J.Stephens Axe. Super raspy, deep tone, ultra-realistic quacks, soft clucks, with plenty of punch on top.

Single Reed
MADE IN STUTTGART, ARKANSAS, U.S.A.

TESTED, HAND TUNED AND INSPECTED BY RNT

All calls made by RNT are covered with a 

Lifetime Service Warranty

.  Meaning any call needing service such as tuning can be sent to RNT at anytime for retuning.  RNT calls that have manufacturers defects, are defective in function or have a natural defect such as the wood splitting will be replaced or can be refunded with a receipt within one year.  Any other type of repair will be subject to a charge for part replacement.  Example being a call dropped and the insert breaks or the  barrel chips.  Also calls cannot be returned for reasons such as the call just doesn't fit your calling style.  If a question arises and you aren't sure about whether or not your call will be covered you may return it to RNT and you'll be contacted after the call has been diagnosed.  When returning a call make sure to include a note stating what the call is doing or what you need done to the call.
All of the duck calls from UpperDuck are cleaned, sanitized and shipped to you FREE via USPS Priority Mail with tracking
Reviews