RNT CUSTOM 2023 ROCKIN' RS Ivory Black Matte Band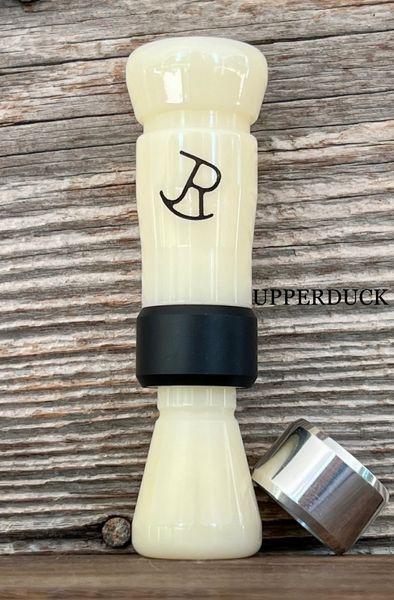 RNT CUSTOM 2023 ROCKIN' RS Ivory Black Matte Band
AUTHENTIC RNT MONDO ALUMINUM BAND INCLUDED IN ALL RNT MONDO CALLS. 

NEW FOR 2023 The Rockin' RS. The "S" stands for "Shorty". 

The Rockin' R, while very similar to the Mondo series of calls, is uniquely based on the way Jimbo likes to set up one of his old black calls. With a tapered mouthpiece that takes away backpressure but allows the caller more versatility of air delivery depending on what sounds they are trying to achieve. Along with that, he opened up and tapered the bore on the insert adding a touch more volume on top but also to be very loose on the bottom. Like the Mondo series, Jimbo went back to an original keyhole and worked forward to develop a smoother top end with lots of punch but also retain that signature rattle. He was looking for a separate shape that honored the classic look of a reversed Olt and his RNT Roots but also stood on its own. So with the help of John Stephens making sense of his crude drawing, what you see as the Rockin' R came to life. The Rockin' R Logo evolved to what you see on the call with the help of Blake Fisher's creative talent using Jim's initials, JR. We are very proud to introduce the Rockin' R regular duck call as part of the many great calls in the RNT line-up.
Single Reed
MADE IN STUTTGART, ARKANSAS, U.S.A.

TESTED, HAND TUNED AND INSPECTED BY RNT

All calls made by RNT are covered with a 

Lifetime Service Warranty

.  Meaning any call needing service such as tuning can be sent to RNT at anytime for retuning.  RNT calls that have manufacturers defects, are defective in function or have a natural defect such as the wood splitting will be replaced or can be refunded with a receipt within one year.  Any other type of repair will be subject to a charge for part replacement.  Example being a call dropped and the insert breaks or the  barrel chips.  Also calls cannot be returned for reasons such as the call just doesn't fit your calling style.  If a question arises and you aren't sure about whether or not your call will be covered you may return it to RNT and you'll be contacted after the call has been diagnosed.  When returning a call make sure to include a note stating what the call is doing or what you need done to the call.
All of the duck calls from UpperDuck are cleaned, sanitized and shipped to you FREE via USPS Priority Mail with tracking
Reviews