JJ LARES A5 2018 Bois d'Arc Wood Barrel Black Polish Acrylic Insert Black Band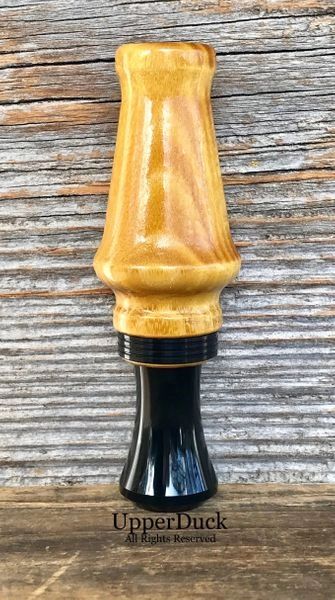 JJ LARES A5 2018 Bois d'Arc Wood Barrel Black Polish Acrylic Insert Black Band
2018 Bois d'Arc Wood Barrel, AKA:  Hedge

Great Hi-End, Loud, Very good rasp in the middle and bottom



The JJ Lares duck call for which both the T-1 Timber and Hybrid have come from.

Sound volume:  Low, Medium, High, Loud.  Great transitions

1.350 reed
Reaches higher ringing hail calls

Single Reed

Only a minimum amount of air needed to blow this call



+/- .001 of an inch manufacturing tolerances

Exclusive saliva ejector system will never load up or change tone because of weather or saliva build up
Stoppers and barrel mounted on O-ring
Never need tuning, trimming, or readjustment
No cork, never changes tones or sticks from wet or dry conditions
All reeds are die cut and quickly interchangeable without adjustment or cutting
HAND TUNED & TESTED BY LARES AND UPPERDUCK

MADE IN CHICO, CA U.S.A.
All of the duck calls from UpperDuck are cleaned, sanitized and shipped to you FREE via USPS Priority Mail with tracking
Picture above for this call is a likeness to the actual A5 Matte Ivory calls which are being produced.

Reviews